ITALIAN PROVINCIAL TOURS – DISCOVER AUTHENTIC ITALY
Ultimate foodies experience on a tour that feels more like a small group of friends!
Have you been on Italy Tours and felt like you were on a carousel of well-known cities and monuments, all of them famously Italian, yet somehow you couldn't get a real sense of Italy?
Have you ever felt that somewhere out there, genuine, everyday Italian life was going on, but you just couldn't seem to get off the beaten path?  Or do you dream of visiting Italy for the first time?  Do you imagine sitting in a quaint trattoria, with a bowl of pasta made by nonna, where your fellow diners are all speaking in boisterous Italian dialects and gesticulating wildly at one another?
The fact is, that it can be difficult for a tourist to experience authentic Italy, but we know the secret of how and where to find it, and we would like to share it with you!
Italian Provincial Tours is a boutique tour company specialising in the provincial regions of Italy.  We take you off the beaten path and provide you with the opportunity to immerse yourself in the culture and cuisine and enjoy an authentic Italian experience.
Our Italy tours are all-inclusive including every meal, and we never have more than 12 people on any tour.  We will show you the heart of Italy, in a tasteful, comfortable and indulgent way.  Because that's the Italian way.
We believe that Italians know what is important in life and they live it.  Our dream is to share the Italian way of life with you.
ABRUZZO DAY TOURS
From May – November 2022 – Day Tours
travel off the beaten path
meet the local people and artisans
roam untouched villages
scenic routes
authentic dining
leisurely pace
Essential ABRUZZO TOUR
5 September 2022

26th September 2022
cooking class with local produce
cheese making & tasting
tasting in ancient olive oil mill
wineries & wine tasting
seafood lunch on trabocco
alfresco lunch in alpine plateau
GRANDE ABRUZZO TOUR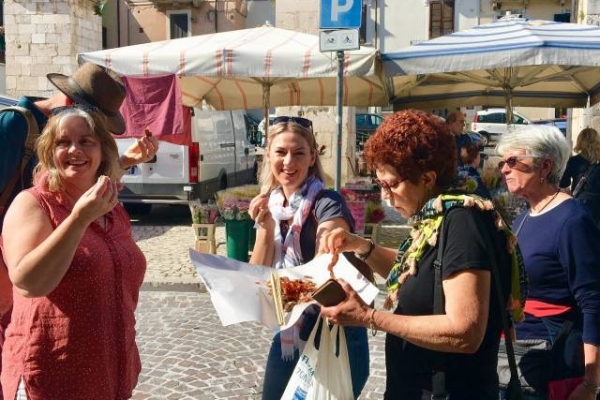 24 May 2022

28 June 2022
hidden hermitages
follow the shepherds
farm visit
national parks
Apennine Mountain wolves
castels & forts
Basilicata & Puglia TOUR
TBA
visit untouched villages
family-run agritourismo accommodation
feel a part of an Italian family
authentic local food and wine
ancient city of Matera
Southern Italian pasta making
SUBSCRIBE & RECEIVE A $100 GIFT VOUCHER
Come and discover authentic Italy